Ever since the world went all upside down, life as we know has changed a lot. Let's say, we have learned to maintain a different level of hygiene, and I mean that in a positive way. Masks and sanitisers have become an important addition to our shopping list and most of us even sanitise the delivery packages that come over to our homes. Honestly, anytime I go out, I try to sanitise everything that I bring in. Using an alcohol based sanitiser might be ideal for your hands but might not be practical on our phone and other devices.
---
Note: The device being reviewed includes technology that is used for eradication of germs and microorganisms. For ay clarifications or questions regarding the technology, please contact the manufacturer. The reviewer and the creator of this video will does not take responsibility of any outcome that may occur after using the device. Please consult a medical professional to make informed decisions and for any dispute, please reach out to the manufacturer of the device. The review being presented is solely based on end user experience spanning a few days. Also, this review was not in any way influenced by RAEGR to be a positive review. All the views expressed here are after experiences with the device using it for a few weeks.
---
As a solution to this, today we review a device that doubles as a UV steriliser and a wireless charger. This device is called Arc 1500, manufactured by RAEGR. I have been using a different model of RAEGR wireless charger for sometime now that does not include the steriliser and am happy with it.
Out of the box, you get the device, a type C to type C cable for those who are on the cutting edge of technology, a traditional type A to type C cable for old timers like me, a dropper for aroma diffuser which is built into the device and an instruction manual, which you should definitely spend some time reading. The device itself is made of matte white plastic and feels well built.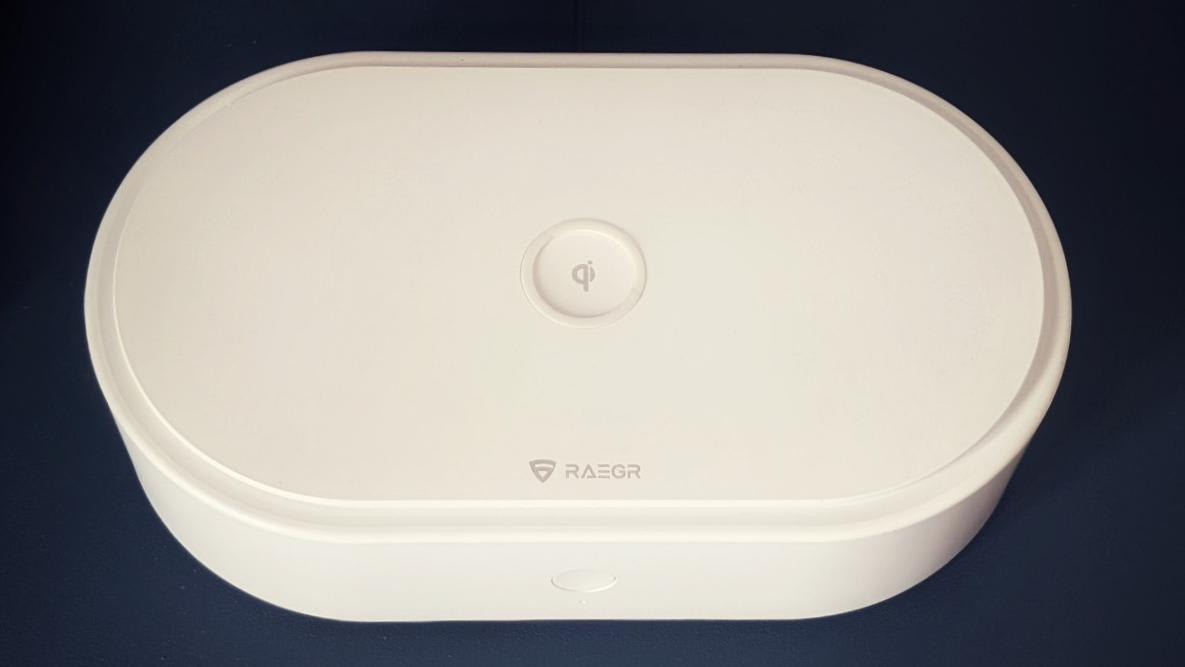 One button start UV steriliser
The device comes with a built in Ultraviolet Steriliser. Now that I mentioned Ultraviolet Radiation, let's take a quick science lesson. Also, please be informed that I am not an authority on the subject or an authorised professional to speak about the medical and scientific properties of UV light or this device. I am sharing information I could find doing some online research of my own. So please do make your own informed decisions based on your own research or speak to a medical or science professional. I shall also leave links to some of the information I found online in this regard.
Our Sun is a huge source of radiation that includes infrared, visible light and ultraviolet radiation. Ultraviolet light that is present in Sunlight is broadly classified into three types based on their wavelength.
UV-A, also called long wave or soft UV which has a wavelength of 315–400nm has the least energy and is not absorbed by the earth's atmosphere and are relatively harmless.
UV-B, also called medium wave or intermediate UV, has a wavelength of 280–315nm and has higher energy than UV-A and is absorbed by the earth's atmosphere.
UV-C, also called short wave or hard UV, had a wavelength of 100–280nm has the highest energy and is completely absorbed by the ozone layer. As per the spec sheet, the UV light used in RAEGR 1500 has a wavelength of 253.7nm, which would make it a UV-C radiation.
The significance of this is that UV-C is used for Ultraviolet germicidal irradiation (UVGI) which is a  disinfection  method that  kills or inactivates  microorganisms by destroying  nucleic acids and disrupting their  DNA, leaving them unable to perform vital cellular functions. This ideally should mean that the device is capable of what it claims. Unfortunately I do not have a microscope or other equipment to verify this claim. So, as I mentioned earlier, I shall leave the links to the articles and videos that provide more details on the topic here, do check them out.
Coming back to the device, it has a fairly spacious inner compartment and the dimensions large enough to contain most phones in the market. To sterilise any item, you place it inside, close the lid and press the switch on the front of the device. The complete procedure takes about 8 minutes after which the device switches off the UV light. If you need to stop the process before 8 minutes, you can do that by either pressing the button again or by just opening the lid. On opening the lid, the light switches off as a safety measure.
This makes it easier to sterilise the items you carry with you like phones, earphones, watch, car keys and anything that might fit within the device. It also houses an aroma diffuse that can make whatever you are sterilising smell like heaven, well it depends on the scent you use. All you need to do is add 2-3 drops of any perfume or essential oil into the aroma cavity before starting the sterilisation process. Do read the instruction manual for more details.
Wireless charging pad
The wireless charging pad that doubles as the lid of the sterilising compartment charges any Qi compatible device. That means mobile phones, devices like AirPods and earbuds. There are four different charging modes that differ in the wattage depending on the device you are charging, 10W for Samsung or LG devices, 7.5W for Apple iPhones and 5W for other Qi enabled phones and 2.5W for AirPods and other earbuds.
You can use your regular phone charger, fast charger, connect it to your computer or docking station and the device will be enabled for charging. Once you place the device on the top, an LED lights up in blue, indicating that the device is charging. In case of any issues during charing the LED will keep blinking. The good thing is that you can keep your phone for charge horizontally or vertically. I was getting decent charging speeds and have no complaints. When you take the device off, the charger goes into standby mode.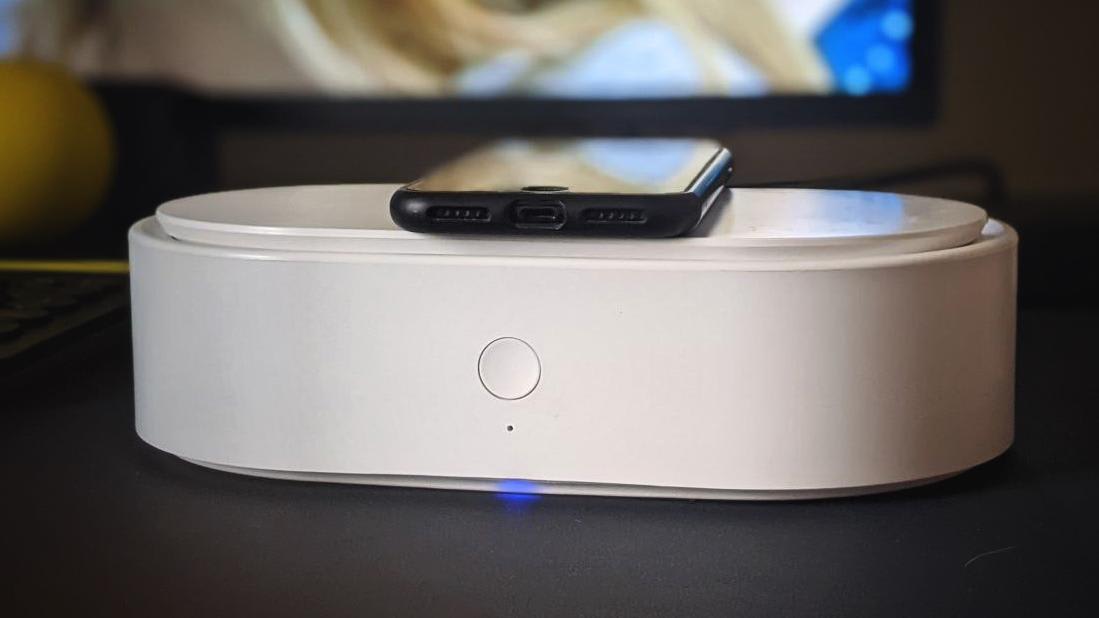 Overall, it is a great addition to the list of gadgets you own. Especially if you use it somewhere on your desktop or room. For those who like to carry a wireless charger while travelling, this might be a bit bulky and REAGR Arc 500, another model that RAEGR manufactures, might be a better choice due to its much smaller form factor. But obviously it misses the steriliser.
During these times when we are worried about the hygiene of our the things we carry around, this device may give you a little bit of peace of mind and compared to the competition in the market, this device is well priced. Although the box lists the device at 4,999/- the prices have dropped and you get one online for just above 3,000/- rupees at the time of this review.
If you like to watch video review of this device, I have posted it below.
Be safe and happy. Good things are coming our way!
Links for further reading:
---